About the product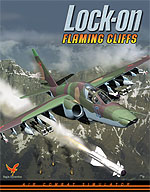 LockOn: Flaming Cliffs is a computer flight simulator of modern combat aviation. It is a continuation of the award-winning LockOn: Modern Air Combat flight simulator.
Product Overview
New product features include:
All the capabilities of "LockOn: Modern Air Combat".
Addition of the Su-25T as a player-flyable aircraft.
Training missions with voice-over instruction.
Three new, 20-plus mission campaigns.
Improved ground texture with even greater detail.
New ground textures for winter, spring, summer and autumn.
New aircraft skins.
New military and civilian ground facilities.
New single missions.
Upgrades and feature additions to version 1.02 of "LockOn: Modern Air Combat".
Adjusted and added additional documentation.
Distribution
The product can be obtained in the following ways:
Full version on CD: Russian version is distributed by 1C in the CIS territories.
Full version on CD: English version is available on Natural Point, based in the USA, www.naturalpoint.com; Simware, based in Belgium, www.simw.com; RC Simulations, based in the UK, www.rcsimulations.com. Boxed version contains: Flaming Cliffs with StarForce Professional keyless protection, User Manual in PDF format, Pilot Manual in PDF format, Terrain textures for four seasons.
Web site download: Download the add-on to "LockOn: Modern Air Combat" ("LockOn: Modern Air Combat" required). -- The English version can be downloaded from www.LockOn.co.uk. Payment is processed via PROTX and the download is approximately 750 MB divided onto 3 parts: Flaming Cliffs, Season Pack and Movie Pack. The add will works with English, German and French versions of LockOn.